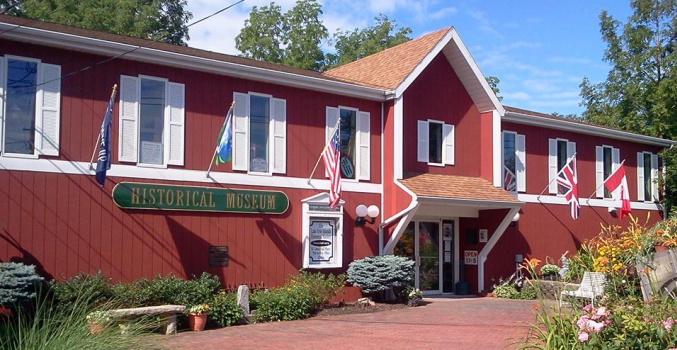 Situated right next to the historic Put-in-Bay Town Hall, is Put-in-Bay's Lake Erie Islands Historical Society Museum. Founded in 1975, the mission of the Historical Society is to preserve and educate the local community and island visitors of the island's rich history. The museum includes four buildings of over 6,000 square feet. Also on the grounds is a Research Library and the History Archives. The society hosts programs, seasonal events, tours, and lectures throughout the year.
Looking for a way to take home a piece of Put-in-Bay while supporting a great cause? Be sure to stop in the museum's Resale Shop. Here you will find unique second-hand items of the locals for bargain prices. We only take the best items in great working condition, so you will want to be sure and stop by. All proceeds benefit the Historical Society.
Historical Museum Admission Price
Adults & Children: $7.00
Senior Citizens & Group Rate: $6.00
Children 5 and Under: Free
Veterans: Free
Hours of Operation
Open Daily May through October:
Current Hours: 11:00 am - 4:30 pm Monday - Friday,
11: am - 5:00 pm Saturday -Sunday
Off Season Hours Subject to Change
Board of Trustees

Maggie Beckford
Kendra Koehler
Jeff Berquist
Marsha Baumert
Peter Huston
George Stoiber
Bill Slough
Dustin Heineman
Judy Kania
Brian Molnar
Nan Burr
Steve Nemec
Curatorial Advisors
Ty Burgess
Jeff Bykowski
Robin Burris Cadez
Mike Conshafter
Clark Davis
John Dodge
Mike Gora
Amy Huston
Kendra Koehler
Marsha Parker
John Rees
Don Rhodes
Susie Cooper
George Stoiber
Rich Zura
Staff Members
Dan Savage - Director
Cindy Clausen - Office Manager
Marsha Baumert - Resale Manager
Terri Travis
Donna Steinbach
Resale Volunteers
Marsha Baumert
Joy Berquist
Andrea Calfee
Amy Carper
Betty Caughey
Sally Duffy
Jody Frimel
Diane Ginsberg
Judy Kania
Bonni Lanese
Sondra Martens
Diane Martini
Fran Poe
Alex Polston
Bill & Joyce Slough
Kathi Spayde
Intererested in Becoming a Member?
The Lake Erie Islands Historical Society offers several membership opportunities, from yearly to lifetime memberships. Follow the link to contact us for more information on becoming a member.